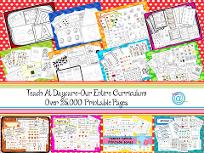 Our Full Curriculum NOW offered in a DOWNLOAD! A wealth of curriculum for a fraction of the cost of our competitors.

Over 25,000 printable pages of Educational Games and Activities, Worksheets and Activities, Phonics, Science, Flashcards, Class Posters, Circle Time, Word Walls, The 50 States and Countries, Math, Money, Time, Printable Music Worksheets and Flashcards, and Bible Based Curriculum organized in PDF files in ZIP files.

We don't just retail this curriculum. We have taught our own children with all of these printable games and worksheets. You can spend hundreds of dollars on similar curriculum. This is perfect for the home daycare or the homeschooling parent. It is my pleasure to be able to offer this special price for so much curriculum. Thank you for all of your support and thank you for visiting. Happy learning....Annette.

Here is what you will receive in PDF files organized by subject in 45+ ZIP files:

Educational Games and Activities: includes over 2000 preschool curriculum games that you can print at your convenience. You WILL receive over 2000 printable games that prints over 4,000 pages. You WILL NOT receive multiple printable games of the same type and theme. You WILL receive games of the same type, just different themes. Below are examples of the game types and themes that will be in the file.

Sample types of games include:

Fill in the Missing Pattern
Match the Beginning Sound
Numbers Count and Clip
Answer the Question
Memory Matching
3 Part Matching
What Comes Next
Which One is Different
Match the Number
Number Sequence Puzzles
Size Sequence
Size Sorting
Sorting
Beginning Sounds Clip it Cards
CVC (Fill in the Missing Vowel)
Pattern Cards
Number Matching Cards
Positional Games
Themed Alphabet Tracing
Alphabet Sequence Puzzle

Sample themes of games include:

Three Billy Goats Gruff
The Three Little Pigs
Cowboy/Cowgirl
Beach
Summer Time
Spring Fling
Fall Harvest
Winter
Cupcake
Owl
Ice Cream Cone
Hawaiian Lu'au
Monster Truck
Transportation
Down on the Farm
Back to School
Children Around the World
Holidays Around the World
Hey Diddle Diddle
Humpty Dumpty
Goldilocks
Robin Hood
Itsy Bitsy Spider
Soccer
Football
Basketball
Hockey
Cheerleaders
Presidents
Tall Tales
Notable African Americans
African Animals
Pirates
Pet Shop
Support Our Troops
Women in History
Notable African Americans
Camping
Westward Expansion
Weather
Arctic Animals
Space
Circus
Halloween
Christmas
Thanksgiving
Humpty Dumpty
Fire Fighters
Antarctic Animals
Mountain Animals
Woodland Animals
Endangered Animals
Rainforest Animals
And much more!

Alphabet Curriculum: over 2,060 printable pages. Perfect for a Letter of the Week Curriculum.

Worksheets
Flashcards
Activities
Posters
Mini Books

Numbers Curriculum: over 2,580 printable pages. Perfect for a Number of the Week Curriculum.

Worksheets
Flashcards
Activities
Posters
Mini Books

Sight Words: over 2,040 printable pages.

Dolch
Fry
Fountas and Pinnell
Rebecca Sitton
Flashcards
Worksheets
Activities

Colors Curriculum: over 300 printable pages.

Worksheets
Flashcards
Activities
Posters

Shapes Curriculum: over 190 printable pages.

Flashcards
Worksheets
Activities

Phonics: over 1,300 printable pages.

Worksheets
Flashcards
Games and Activities
Emergent Readers
Emergent Reader Worksheets
Word Families

ASL Curriculum: over 250 printable pages.

Flashcards
Worksheets
Games and Activities
Posters

Math: over 1,300 printable pages.

Worksheets and Activities
Flashcards
Time
Money
Fractions
Place Value
Capacity Units
Addition
Subtraction
Multiplication

Geography: over 4,370 printable pages.

50 States
Countries
Continents
Worksheets
Flashcards
Maps

Classroom Accessories: over 1,100 printable pages.

Circle Time Accessories
Class Posters and Anchor Charts
Themed Bulletin Board Sets and Accessories
Themed Word Walls
Binder Covers and Spines

Science Curriculum: over 750 printable pages.

5 Senses
Earth Science
Life Cycles
Solar System
Weather
Electricity and Energy
Biology and Life Science
Flashcards, worksheets, and activities

Flashcards: over 1,750 printable pages.

ASL
Beginning Stages
Economy Flashcards
Literacy
Math and Numbers
Miniature Flashcards
Music
Science
Sight Words
Social Studies
Spanish
Themed Picture and Word Flashcards

Music Education: over 230 printable pages.

Worksheets
Flashcards
Color Books

Worksheets and Activities: over 1,350 additional printable worksheets and activities.

Animal Worksheets-Animal worksheets to color and trace.
Coloring Books-Educational themed color and trace worksheets.
Community Helpers-Worksheets for coloring and tracing.
ELA-Worksheets for grades 1st-2nd.
Foreign Language-Flashcards and activities.
Quick Reference-Quick reference charts and posters.
Seasons Worksheets-Winter, Spring, and Fall themed Alphabet, Numbers, and Math worksheets.
Task Worksheets-Alphabet and Numbers tracing task worksheets.
Tracing Worksheets-Alphabet, numbers, and words to trace.
Calendar Notebook
Homeschool Planner
Preschool Calendar Notebook
Printable Preschool Crafts

Bible Education: over 3,000 printable pages.

Themed Games and Activities
Bulletin Board Materials
Flashcards
Coloring Books
Worksheets
Themes include: Abraham and Sarah, Adam and Eve, At the Cross, Birth of Jesus, Cain and Abel, Daniel and the Lion's Den, David and Goliath, Elijah and the Widow, Fishers of Men, Isaac and Rebekah, Jacob and Esau, Jericho, John the Baptist, Jonah and the Whale, Joseph, Luke 15, Moses, Noah's Ark, Parables, Queen Esther, The Resurrection, Shadrach, Meshach, and Abednego, and the Tower of Babel..

Thank you for your support! All of the printable games, flashcards, posters, activities, and worksheets in this Download are designed by Annette Sutherland (Owner of Teach At Daycare) in Owasso, Oklahoma. All files, products and materials designed by Teach At Daycare are for personal use. They are not for resale, retail, offered as a free item on a website, printed and sold, or shared. The copyright to all materials is held by Teach At Daycare. All licenses held by Teach At Daycare for clipart is solely to be used by the holder and not shared per the Terms of Use by Clipartists/Graphic Designers. If any of these terms are not followed, it is in direct violation of the DMCA.